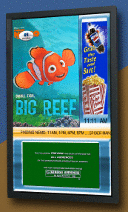 Digital signage is a form of electronic display that shows information, advertising and other messages. Digital signs (such as LCD, LED, plasma displays, or projected images) can be found in public and private environments, such as retail stores and corporate buildings. The benefits of digital signage over traditional static signs are that the content can be exchanged more easily, animations can be shown, and the signs can adapt to the context and audience, even interactively. Digital signage also offers superior return on investment compared to traditional printed signs.
Thinvent provides hardware and software specifically tailored to the needs of digital signage systems. Our digital signage firmware comes pre-installed with a multimedia codecs, utilities and remote management solutions. This technology helps customers create digital signage products with minimal development time and effort.
Scalability
In digital signage, the field hardware varies from project to project. Each codec performs differently on these different platforms. Thinvent helps you find the best hardware for your needs, and optimises your content delivery system. Our embedded API enables you to simultaneously display the same content on multiple hardware architectures ranging from ARM to Atom, and screen sizes ranging from 10″ to 42″.
Integrated Hardware
Our Digital Screen hardware integrates the display panel, mainboard, and associated power supplies and cabling, within the TV chassis. The signage thin client is no longer outside the display. This greatly simplifies installation, and eliminates safety issues related to the hardware and cabling. If the connectivity is wireless, only a power connection is required. Otherwise, the Ethernet cable or USB drive directly plugs into the TV chassis.
Content Management
Thinvent supports numerous mechanisms for content management, including push, pull, and pen drive based updation of playlists. These are described in detail in the documents below.
Downloads
Projects Completed
A low cost advertising solution for Carinov Networks, that provides automated content upgrade and management through removable flash drives.
An in-vehicle information system for Aum, that updates passengers on destination arrival. This project utilises the latest technologies such as GPS and GPRS on a 32 bit microprocessor platform.
A modern terminal repeater for use at Indian Railways reserved and unreserved ticketing counters, that combines ticketing information with multimedia advertising. Multiple displays are powered from a single processor, with each display featuring separate content and information.