Thinvent has developed a highly customised thin client based Dumb Terminal for UTS, PRS, JTBS and NTES projects by leveraging their expertise in embedded system design. Thinvent's Dumb Terminals have successfully replaced the ageing Dumb Terminals in Indian Railways. Thinvent's Dumb Terminals are 100% compatible with legacy product and have been handling the most time critical mission of train ticketing. Thinvent's Dumb Terminals support the following:
Server based UTS and PRS applications running in terminal emulation mode.
Connection to servers using both serial (25 pin/9 pin) connection to Terminal Servers, and Ethernet (IP) connection to network switch.
Salient Features
Ruggedised hardware to withstand harsh Indian operating conditions.
Customised to support the CRIS PRS and UTS application.
RS232 interface with 25 pin D-type male and LAN connectivity to Railways Servers.
ISCII(83, 88 & 91) printing for tickets with EPSON/TVSE/Printronics/MT-Lipi emulation standards configurable for both serial or parallel ports.
Railways UTS and PRS form downloadable capacity with answer back support.
Compatible with DEC VT 200 style 105 keys Keyboard.
Remote accessibility is disabled.
Built in calculator, calendar, clock and other helpful tools.
Fastest hardware in the market, with 2.4 GHz dual core fanless Intel processor, 1 GB DDR3 RAM, and 8 GB flash. Gives twice the performance of competing thin clients.
Two high speed serial ports, and one Centronics Parallel port, built in.
Uses Thinvent's secure Thinux Embedded Linux operating system with industry lowest footprint.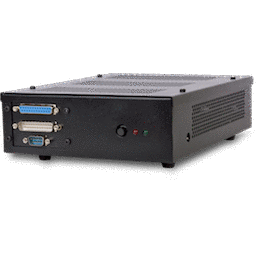 Downloads
Projects
This product is applicable to the following projects:
Orders
List of orders where we have supplied this product: